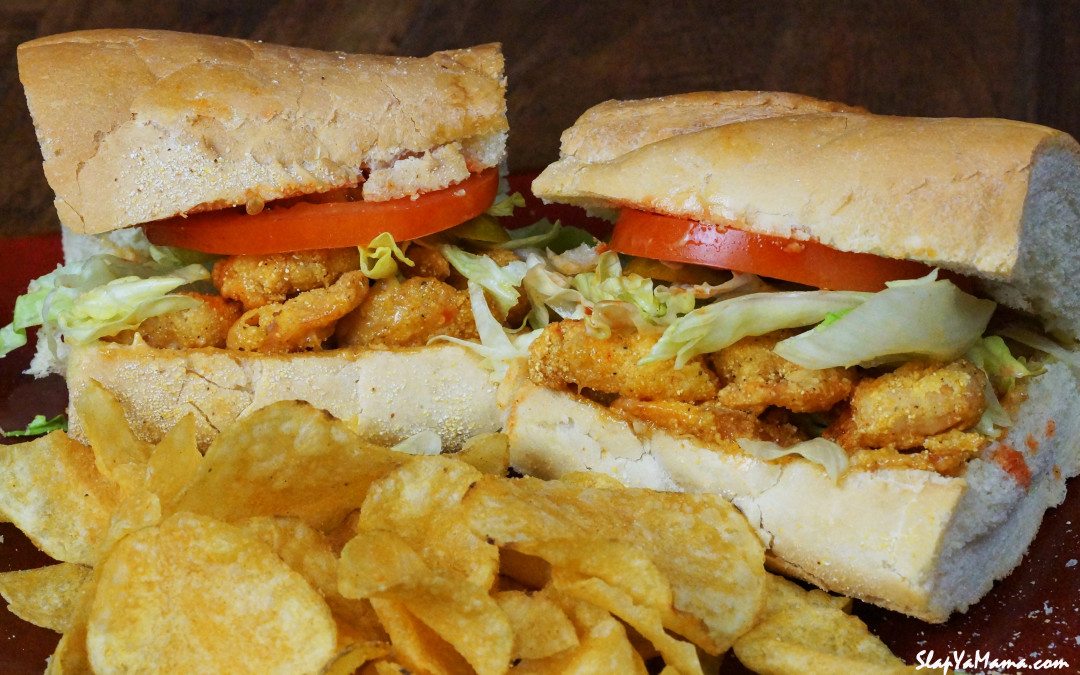 Looking for a fried shrimp po-boy complete with Louisiana Cajun flavor? Try Slap Ya Mama's Fried Shrimp Po-boy featuring our delectable Cajun fish fry and hot sauce to spice things up just like in Louisiana.
Ingredients:
1 ½ lbs medium shrimp, peeled
2 eggs
¼ cup milk
6 tbsp butter, melted
vegetable oil
French bread, enough to make 4 po-boy buns, each 8" long
remoulade sauce
shredded iceberg lettuce
sliced tomatoes
sliced dill pickles
Directions:
Pre-heat oven to 350 degrees F.
With a thermometer attached to the side of a heavy pot or deep skillet, fill pot with vegetable oil, about 2" deep and heat to 350 degrees F.
Shrimp:
While waiting for the oil to heat, whisk eggs and milk together in a bowl making an egg wash.  In a medium-sized bowl, place Slap Ya Mama Cajun Fish Fry.  Now dip shrimp in egg wash, then coat evenly with fish fry batter.  Working in batches, fry shrimp until golden brown, about 4 minutes, stirring occasionally.  Transfer to a paper towel covered plate to drain.
Bread:
Slice French bread lengthways; spread melted butter on the inside of bread and place on a baking sheet with open ends up.  Bake for approximately 10 minutes.
Building a Po-Boy:
Generously spread remoulade sauce on the inside of bread.  Layer with shrimp, lettuce, tomatoes and pickles.  Douse with Slap Ya Mama Pepper Sauce, serve and enjoy!
Servings: 4
Note:
If you like it a little spicier, try seasoning the shrimp with our Slap Ya Mama Hot Blend Seasoning before dipping them into the egg wash. Deliciousness with a kick!