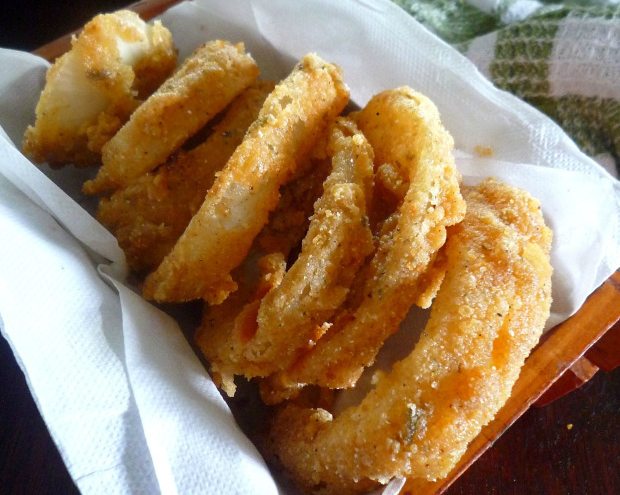 CAJUN STYLE CRISPY ONION RINGS
Recipe & Pictures by Heidy L. McCallum of  THE MCCALLUM'S SHAMROCK PATCH
You'll seriously love how easy it is to make these Cajun-Style Crispy Onion Rings. If you enjoy good ole fashioned homemade crispy fried onion rings and  Cajun Spices this is your Onion ring recipe you have waited for. Cajun-Style Crispy Onion Rings are made with Yellow onions, self-rising flour, self-rising cornmeal, Cajun seasoning, oregano, freshly ground black peppercorns, ground cayenne peppers, beer, Tabasco sauce, and fried perfectly crispy in peanut oil.
Summertime isn't complete without having a side of Cajun-Style Crispy Onion Rings to complement a big juicy burger cooked on a charcoal grill in my families eyes. These Cajun-Style Crispy Onion Rings actually are good with almost any summer meal.
Oddly many folks who hate raw onions in recipes, seem to love onion rings for some reason; in my own son's words, " I love me some onion rings… but if you attempt to put an onion on my burger, I'll kick your butt."

The actual invention of our deliciously crispy onion rings is actually unknown…
John Mollard's 1802 cookbook "The Art of Cookery Made Easy and Refined"  includes a recipe called "Fried Onions with Parmesan Cheese." The recipe suggests cutting onions into 1/2″ rings, dipping them into a batter made of flour, cream, salt and pepper, and Parmesan cheese, and then deep-frying them in "boiling" lard. It further suggests serving them with a sauce made of melted butter and mustard.
In 1910, a recipe for French Fried Onions appeared in the Middletown, New York Daily Times on 13 January 1910. It does not claim to be the originator of the recipe.
Another claimant to the invention of the onion ring is the Kirby's Pig Stand restaurant chain, founded in Oak Cliff, Texas, in the early 1920s.
 In 1933, a recipe for deep-fried onion rings that were dipped in milk then dredged in flour appeared in The New York Times, the advertisement was for the company Crisco.
The restaurant A&W is credited with popularizing the onion rings in fast food restaurants, introducing it to its menu in the 1960s.

One of the best tips I can give y'all about draining your Cajun-Style Crispy Onion Rings is letting them rest on a bakers rack to drain off the excess peanut oil; it lets air hit both sides of the Cajun-Style Crispy Onion Rings to keep them nice and crispy.

Making your own Cajun-Style Crispy Onion Rings has never been easier than this simple easy to follow recipe that uses ingredients most people already have on hand in the refrigerator and pantry. These Cajun-Style Crispy Onion Rings pair well with burgers, fish, chicken, and even ribs.
CAJUN-STYLE CRISPY ONION RINGS
INGREDIENTS:
3 large yellow onions, cut into 1/2-inch rings
2 and 1⁄4 cups of self-rising flour
1⁄4 of a cup yellow self-rising cornmeal
DIRECTIONS:
Place the sliced onion rings in an ice bath, place in refrigerator while in the ice bath for about 25-35 minutes
In a medium bowl combine the self-rising flour with the cornmeal, Slap Ya Mama Original Blend Cajun Seasoning, oregano, kosher salt, freshly ground black peppercorns, and a pinch of ground cayenne; mix to combine dry ingredients.
Add in your favorite beer, a few dashes of Slap Ya Mama Hot Sauce, and a lightly beaten egg; combine thoroughly until a smooth batter is formed; refrigerate the batter for 30 minutes.
Drain the onion rings of excess water from the ice bath then place on a baking rack; pat dry with clean paper towels if needed.
Dip the onion rings into the batter coating well on both sides.
Heat 3-inches oil in a cast iron skillet to about  375 degrees.
Drop the onion rings a few at a time into hot oil and fry until golden brown on both sides.
Drain the Cajun-Style Crispy Onion Rings on a baking rack.
Serve hot with your favorite dipping sauce
Enjoy!
© Heidy L. McCallum and The McCallum's Shamrock Patch, 2016 – 2014. Unauthorized use and/or duplication of this material or photos without express and written permission from this blog's author and/or owner are strictly prohibited. Excerpts and links may be used, provided that full and clear credit is given to Heidy L. McCallum and The McCallum's Shamrock Patch with appropriate and specific direction to the original content. You may not copy and paste recipes to share on Social Platforms.